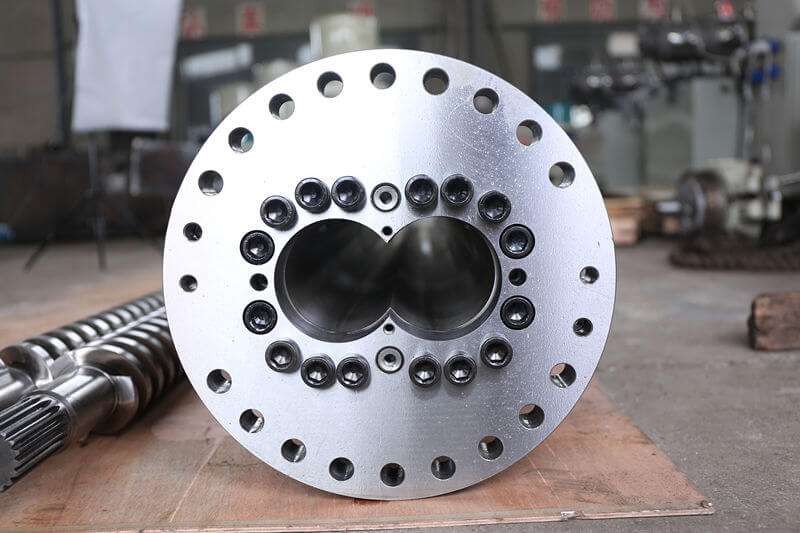 Twin Screw Barrel Manufacturer
Plastic Machinery manufactures twin screw and barrel, we also offer twin screw pair which responds anticorrosion and wear resistant with high quality and high performance rate with coating. New designed screw ,which can be applied to process PVC pipes and profiles compounding are developed by us . We manufacture twin screw pairs and twin barrel of all the well-known extruder making companies.
Accurate dimension

Resistance to corrosion

Maximum durability
High-quality Twin Screw Barrel for Extrusion Machine
We offers highest range of twin screw barrel for plastics injection moulding machine, plastics extrusion machine, plastics blow moulding machine, plastics recycling machines, rubber extrusion machine, food processing machine.
Extruder Twin Screw Barrel classification
Twin screw is divided into parallel twin screw barrel and conical twin screw. Because the two screw movement direction is different, and divided into the co-rotating and counter-rotating twin screw. Because the position of two screw is different, it is divided into meshing and non-meshing.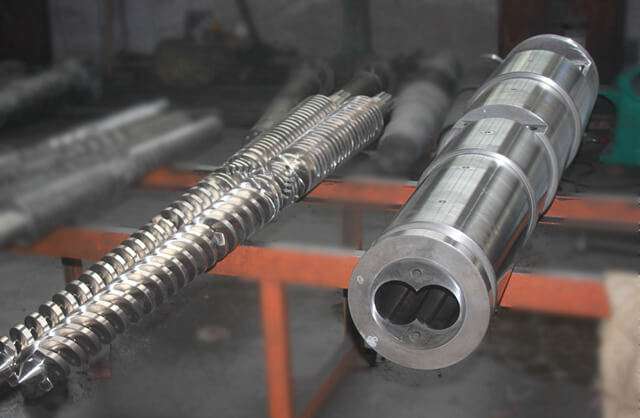 Conical Twin Screw Barrel
HI-TECH SCREW BARREL manufactures twin screw and barrels starting from 35 mm to 110 mm screw diameter. We manufactures screws and barrels according to present market needs like high filler, low filler application and ISI grade. HI-TECH SCREW BARREL follow all standard manufacturing process and adhere all standard norms of manufacturing.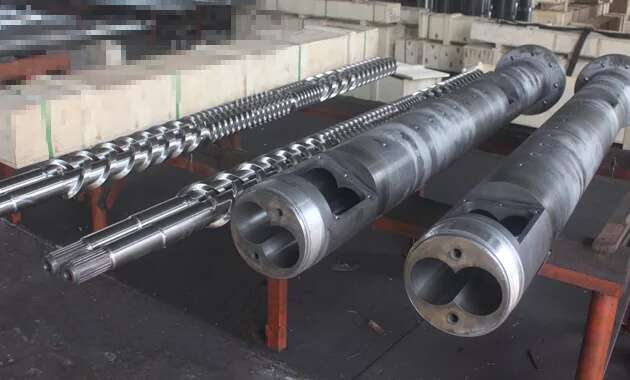 Parallel Twin Screw Barrel
These are mainly used in Pipe and compounding extrusion plants for higher outputs and better mixing. HI-TECH SCREW BARREL manufactures Twin screws and barrels require greater accuracies and we make sure it meets the standards. The axis, bore of the barrel, screw meshing all play an important role in the smooth functioning and ensure longer life of equipment and machine.
Professional Manufacturer for Exturder Twin Screw and Barrel
With excellent professional skills, more than 40 years of production practice experience, according to customer needs, combined with the actual production situation, to provide professional optimal solutions. Ensure quality, optimize process, achieve optimal productivity and stability, prolong lifespan, to provide customers with professional pre-sales and after-sales service and technical support.
Twin Screw Extruder Spare Parts
The co-rotating units are used for compounding materials where thorough mixing is important. Co-rotating twin-screw extruders usually have modular configurations, which makes the equipment quite flexible for adapting to changing applications and material properties.
Twin-screw extruders use modular barrels and screws. Screws are assembled on shafts, with barrels configured as plain, vented, side stuffing, liquid drain, and liquid addition. The modular nature of twin-screw units provides extreme process flexibility by facilitating such changes as the rearrangement of barrels, making the length-to-diameter (L/D) ratio longer or shorter, or modifying the screw to match the specific geometry to the required process task.
The twin screws are made in segments so that various screw configurations can be achieved to meet the processing requirements of a particular product and different products. When needed, various screw segments with different processing functions, such as conveying, kneading, mixing, shearing, and compression, can be configured to meet the processing requirements of a specific product.
Base Materials: Alloy Steel: AISI SAE 4140, AISI SAE 4340, Nitralloy 135, etc.
Tool Steel: AISI M2, D-2, H-13, CPM-9V, CPM-10V, DC53, etc.
High Nickel Alloy: Inconel 625, Inconel 718, Hastelloy C-276, Hastelloy C-22HS, etc.
Machine Makes: APV, Buss, Clextral, Coperion, Entek, Farrel, JSW, SM Platek, Berstorff, Kobe, Leistriz, Maris, Steer, Theysohn, Toshiba, Werner & Pfleiderer, etc.
Contact our support team now
If you have any questions, please contact us in time!
You will get feedback within 24 hours.
We Can Help You With Extrusion Twin Screw Barrel
Professional design and manufacture of precision screw barrels for rubber and plastic machinery parts.