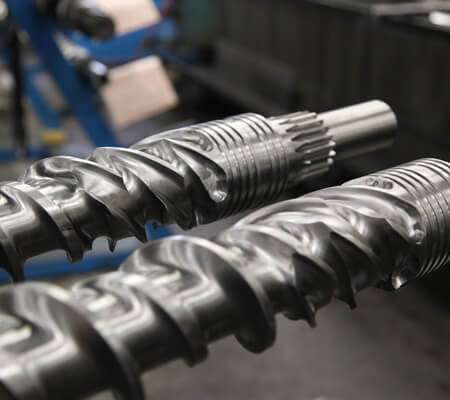 Rubber Screw Barrel Manufacturer
We are Plastic Machinery, leading OEM Screw Barrel manufacturer for the Rubber Extrusion Industry.
Equipped with Polymer Integrated R&D Cell, we make all kinds of screw barrel sets for Cold Feed Extrusion, Hot Feed Extrusion.
A Global supplier OEM to more than 80 leading machine manufactures. We have a vast customer base of around 8000 Plastic/Rubber companies.
Buying directly from an OEM makes your business more economical.
Just send us a drawing of your Screw Barrel with dimensions and get a quotation as early as possible.
Screw Barrel for Rubber Processing
We offers highest range of screw barrel for plastics injection moulding machine, plastics extrusion machine, plastics blow moulding machine, plastics recycling machines, rubber extrusion machine, food processing machine.
Screw and Barrel for Rubber Extruder
PVC profile(Door & window) / WPC(PVC,PE) / PVC foam board / PVC pipe / PVC compound etc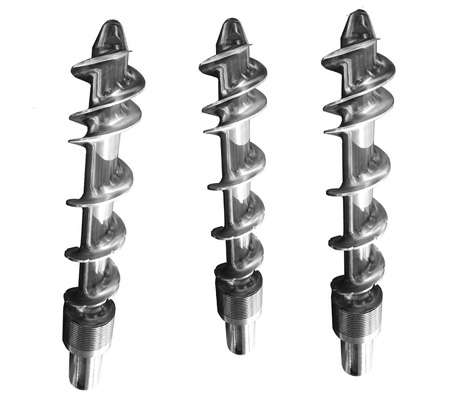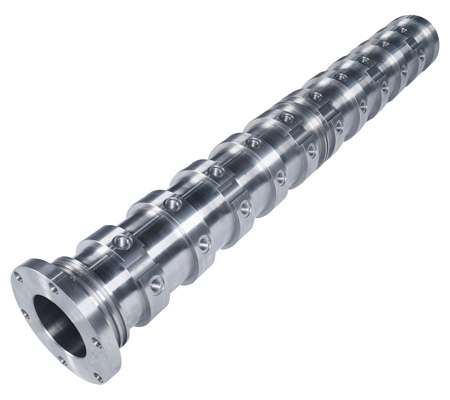 Pin type extrusion barrels and cylinders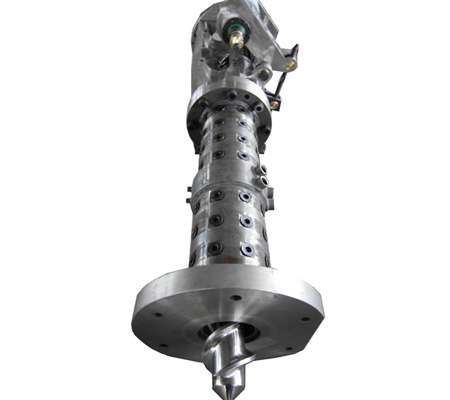 Pin type extrusion screws and barrels, cylinders
Professional Manufacturer for Rubber Exturder Screw and Barrel
Plastic Machinery Manufactory is a professional China rubber exturder screw barrel Wholesaler and  Manufacturer.
We produce about ten thousand sets of conical twin screw barrel Extruder parts, with main size including 24/52, 45/90, 45/100, 50/105, 51/105, 55/110, 55/120, 58/124, 60/125, 65/120, 65/132, 68/143, 68/147, 70/135, 70/140, 75/150, 80/143, 80/156, 92/188, 105/216, 110/220 and so on.
Please contact Plastic Machinery to get your high quality rubber screws and barrels.
Rubber Extruder Screw Barrel
Plastic Machinery is a standout firm among the most reliable and prevalent organizations and it is perpetually involved in creating an extensive variety of Screw Barrel. We have earned an inimitable position in the China and in global market also with the assistance of our excellent products, combined with amazing bond with the purchasers.
Our delivered items are broadly utilized as a part of various mechanical applications like extruder machine, injection forming machine and other rubber hardware. We make a phenomenal quality of Rubber Extruder Screw Barrel.
The design of these barrels is such that they give appropriate finishing to a ready-to-be consumed product. The fundamental work of screw barrels rubber extruder machine is to keep up a similar level of rubber line so it gives the correct shape and finishing to the granules. Our organization adopts various processes in order to make the item smoother and laced by innovative work.
An Extruder Machine is one of the imperative prerequisites of any turn key ventures and in the event that you need one, you can get the best machine by contacting us.
Screw barrel sets are our only product and this is the best thing about us.
We offer a wide range of screws and barrels for Rubber Processing Extruder.
Smooth Bore Extruders Screw Barrel
Extruder diameters ranging from 38mm to 250mm
Length range 6D to 36D (800 mm to 5500 mm)
Pin Barrel Extruders Screw Barrel
Barrel diameters ranging from 90mm to 250mm
Pin-Type Extruder
Cross-flow mixing Extruder is of a similar design to a cold-feed conventional extruder. The marked difference lies in the combination of screw and barrel which depending on the application, is equipped with up to 12 rows of pins
Plastic Processing Machineries
Plastic Recycling Machinery
Contact our support team now
If you have any questions, please contact us in time!
You will get feedback within 24 hours.
We Can Help You With Rubber Extruder Screw Barrel
Professional design and manufacture of precision screw barrels for rubber and plastic machinery parts.